Mountain Park (1897-1987)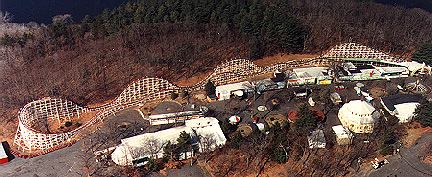 A View of Mountain Park From Above During the Better Years
---
Mountain Park was a traditional trolley amusement park situated on beautiful Mt. Tom in Holyoke Massachusetts. Up until its untimely demise in 1987, Mountain Park entertained the people of Western Massachusetts with wonderful rides such as the Mountain Flyer roller coaster, the historic carousel, flyers, whip, and tempest.
---
What's New
10-17-01
See some incredible early pictures of Mountain Park - Supplied by Kevin Haarman.
9-26-2001
See some pictures Mountain Park today.
8-22-01
Check out the new look of Mountain Park Remembered. Much cleaner looking, isn't it? While you're at it, remember to head on over to the message board to post your memories of Mountain Park.
----------------
Postcards (Page 1)
----------------
Postcards (Page 2)
----------------
Message Board
---
Original Message Board Messages
---
Local PBS Station WGBY-TV Channel 57 in Springfield is looking to do a documentary on Mountain Park. If anyone out there has any pictures, memories, or most importantly, home videos of the park, please e-mail me at ejocko79@mediaone.net